MDF Acoustic Panel Acoustic Wall Panel Grooved Acoustic Panel
Leeyin® grooved wood acoustic panel has high acoustic absorption coefficient, the average NRC can reach 0.80. It's widely applied in many place such as auditorium, gymnasiums, hotels, schools and studios, etc.
Product parameters
Leeyin wooden grooved sound absorbing panel is a sump with a long open surface and a sound absorbing panel with a round hole at the back. The back is covered with non-combustible sound-absorbing black paper to prevent the internal sound absorbing material from being exposed. The specifications of the slot wood sound absorbing panels are very rich, and different models and specifications can be selected according to different interior styles and overall effects. This type of sound absorbing panels can be used in large scales in auditoriums, conference rooms, multi-purpose halls, airports, and the like.
The grooved wooden acoustic panels are the perfect combination of modern architectural design and acoustic performance. After long-term engineering projects, the trough wood sound absorbing panels have excellent sound absorption performance, flame retardant performance (A2 grade) and environmental performance (E1). The standard specifications do not need to be customized, and the site can be cut, and the simple construction can effectively shorten the construction period.
1.Structure

Base Material, Finish & Back Finish

2.Basic Material

E1 MDF,FR MDF ,MgO Combination Board etc.

3.Front Finish

Melamine, Natural Wood Veneer, Paint, etc.

4.Back Finish

Black Acoustic Felt

5.Standard Size

2440*133mm, 2440*197mm

6.Standard Thickness

12/15/18mm

7.Pattern

13-3, 14-2, 28-4, 59-5,6-2,5-3,4-3;

8.Acoustic Principle

Resonance Absorption

9.Eco-Friendly

E1

10.Fire Resistance

France F1

11.Density

720kg/M3

12.Formaldehyde Emission

Can meet both China&EU Standard Class E1

13.Flame Retardant

Can meet China Standard Class B,BS476 Part 7
Class 1,etc.

14.Installation

1.Lightweight steel keel system2.Wooden battern systern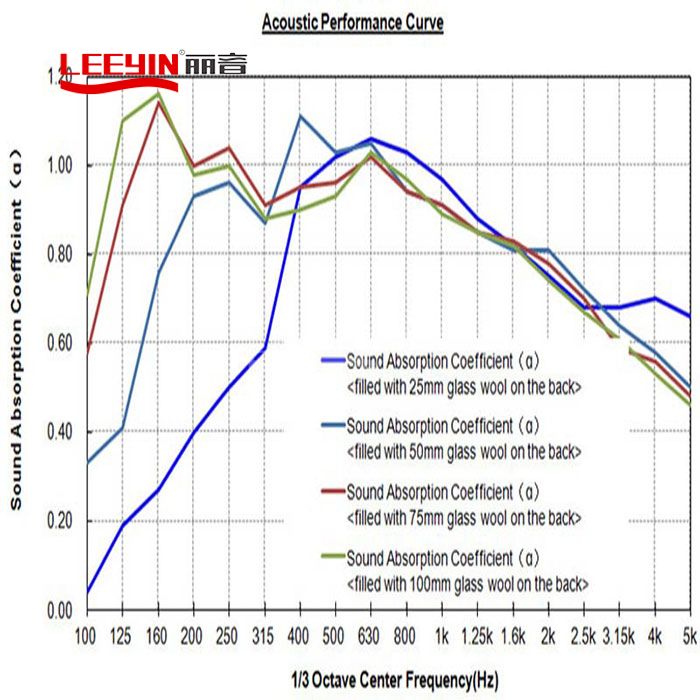 Product Features
1.Scientific industry: Made according to acoustic theory, excellent at reducing noises, especially effective for absorbing high and middle frequency noises.
2.Artistic products: Natural wood, which may be carved according to your taste.
3.Environment-friendly: All the materials conform to the country's environmental protection standards, little wood alcohol is contained. Its natural wood is fragrant.
4.Fireproof: Fireproof degree B1- the highest for wood. It has already been tested by authoritative organization.
5.Moisture-proof and mildew-proof: It is made of high density moisture-proof and mildew-proof material.
6.Theory: Grooved on front and perforated on back of the panel with concealed system (for installation). It is usually used on the wall to absorb sound and reduce noise.
7.Easy to install: Dragon bone construction is applied.
8.Industrial production: No more an extensive production, automatically controlled by computers, standardized and large scale production, improved is production capability and ensured is products quality.
Scope of application
1.Professional space for timbre effect and decoration: Church, Audition room, Auditorium, Multi-purpose hall,TV studio, Recording studio, Listening room, rehearsal room, etc.

2.Recreational place for sound effect and decoration: Opera, Theater/ Cinema, Concert hall, Indoor sports venues, Gymnasium, KTV, Disco, Large Casino entertainment building etc.
3.Sound-absorbing place for secret/privacy and decoration: Business office, Meeting rooms, Hotel, Luxury Villa or home life etc.
4.Noisy industry for health and environmental protection: Airport, Railway station, Bus stops, Subway station, Workshop, Plant etc.