13-3 Grey MGO Wooden Grooved Acoustic Panel
Model:5-3/6-2/12-4/13-3/28-4/Support Customized

Substrate: High density flame retardant MGO board
Fireproof/Moisture-proof and mildew-proof/Environment-friendly
Leeyin mgo acoustic panel is used high quality magnesium cement as its substrate material, then paint emulsion paint of acrylic acid on it, and cover high quality anti-dust cloth on the surface at last.
A first grade flame retardant sound- absorbing board to have durability strong against mildew, moisture and shocks, being economical, and to show high sound absorption rate(250~1000Hz) in medium/low frequency bands, as an harmless and eco-friendly material, as well as a acoustic board with optimal porosity rate on a natural inorganic(magnesium).
Structure

Base Material, Finish & Back Finish

Basic Material

MGO Board (Magnesium Oxide Board)

Front Finish

Melamine, Natural Wood Veneer, Paint, etc.

Back Finish

Black Acoustic Felt

Standard Size

2440*132mm, 2440*197mm

Standard Thickness

12/15/18mm

Pattern

13-3, 14-2, 28-4, 59-5,6-2,5-3,4-3;

Acoustic Principle

Resonance Absorption

Eco-Friendly

E1

Fire Resistance

France F1

Density

720kg/M3

Formaldehyde Emission

Can meet both China&EU Standard Class E1

Flame Retardant

Can meet China Standard Class B,BS476 Part 7
Class 1,etc.

Installation

Lightweight steel keel system; Wooden battern systern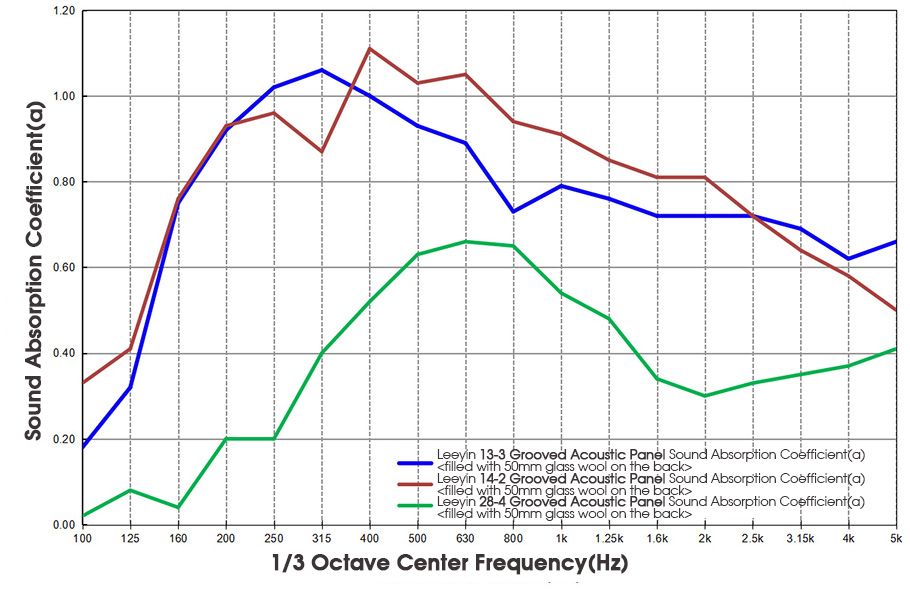 1.Scientific industry: Made according to acoustic theory, excellent at reducing noises, especially effective for absorbing high and middle frequency noises.
2.Artistic products: Natural wood, which may be carved according to your taste.
3.Environment-friendly: All the materials conform to the country's environmental protection standards, little wood alcohol is contained. Its natural wood is fragrant.
4.Fireproof: Fireproof degree B1- the highest for wood. It has already been tested by authoritative organization.
5.Moisture-proof and mildew-proof: It is made of high density moisture-proof and mildew-proof material.
6.Theory: Grooved on front and perforated on back of the panel with concealed system (for installation). It is usually used on the wall to absorb sound and reduce noise.
7.Easy to install: Dragon bone construction is applied.
8.Industrial production: No more an extensive production, automatically controlled by computers, standardized and large scale production, improved is production capability and ensured is products quality.
Grey MGO grooved acoustic panels for walls and ceilings, with an excellent acoustic absorption for public and private spaces, auditoriums, theaters, hotels, offices.