Wooden Acoustic Door Soundproof Door
Specification: 910*2100*16mm(Single door) 1500*2100mm(Double leaf )
Door leaf thickness: 45-90mm
RW: STC25-STC50
Soundproof door
Product Parameters
Product size
The material
Filler material

Hardware




Sound insulation decibel
Feature

custom-made
Door frame panel: cold rolled steel sheet 1.5-3mm thick, or stainless steel or wood
Door panel: cold rolled steel sheet 1.0-2mm thick, stainless steel or wood or leather
Fire insulation board + Sound insulation felt + fire insulation Cotton
Lock, handle, hinges, door closer, panic bar and others as request.
25db-50db
Fireproof, waterproof, moistyre-proof, mothproof, break resistance, firmness, high quality, environmental-friendly, durable


Leeyin Soundproof interior and exterior acoustic doors are an ideal cost effective solution for recording studios, hotels, music rooms, conference rooms, or any space that needs to be soundproof. Our pre-hung acoustic doors feature multilayer construction in a variety of wood options suitable for indoor applications or metal for exterior use. If the door itself is not a problem, it could be that sound is leaking through the space between to door and the jamb. To solve this problem, we supply a full line of soundproof door seal kits and other products to keep noise contained. These standard and adjustable door seals are economical and easy to install.

1. High precision: After closing the wood sound proof door, the gap between the door leaf and the door frame is 3mm, which is much smaller than the 8mm of ordinary door.

2. High quality door handle: It is made of high quality stainless steel handle and the sound is difficult to pass through acoustic door.
3. High-temperature paint: By default, the acoustic door panel is not carved to maintain the sound insulation effect, and the high-temperature paint wood grain transfer technology is used to maintain the appearance.
4. Sound insulation treatment at threshold: To use automatic lifting concealed sealing strip instead of the sill, which is better for soundproofing and more convenient.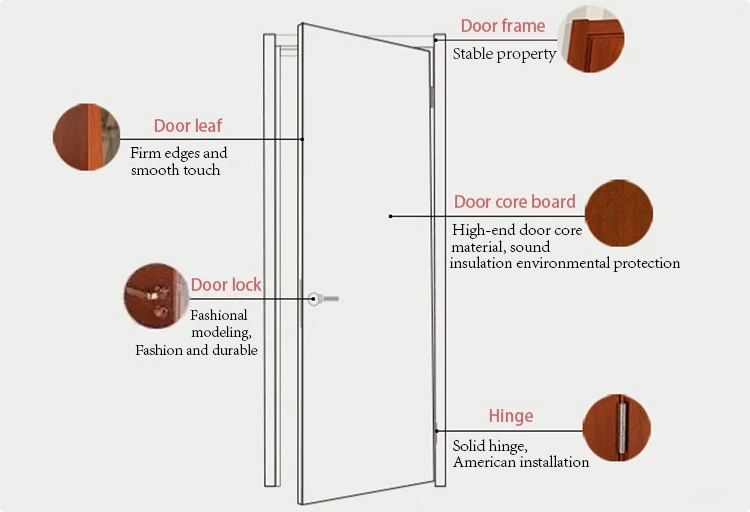 Industry: generator room, refrigeration room, pump room and so on.
Business: recording studio, piano practicing room, KTV room, conference room and so on.
Family: home theater, HIFI audio-visual room, study room, piano room and so on.