Mass Loaded Vinyl Noise Barrier Soundproof Panels
Material:PVC+Metal Power
Standard Size:10*1.2m or 5*1.2m/Roll
Standard Thickness:1.2/2/3mm or customized
Material:PVC+Metal Power
Standard Size:10*1.2m or 5*1.2m/Roll
Standard Thickness:1.2/2/3mm or customized
acoustic coefficient:16-26 dB
Density:23-30kg/Roll
Application:Ceiling,Wall & Floor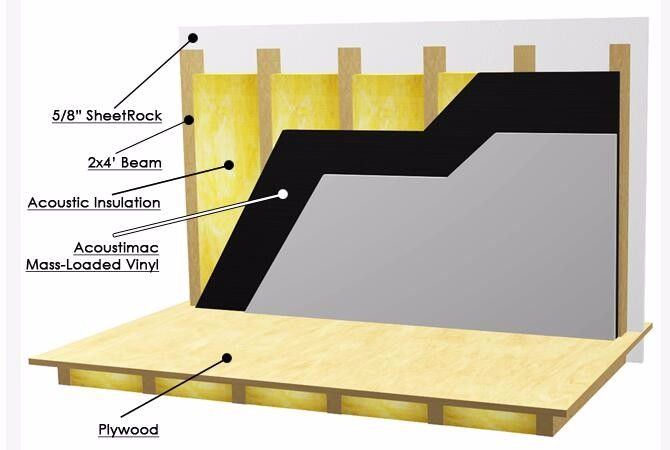 MLV is commonly used as a carpet underlayment, one type has a foam backing, the other doesn't. The foam backing mat is recommended under carpets as it provides a vibration cushion, floating the barrier just off the floor. This helps reduce footfall and impact noise.MLV without the foam cushion would be under the subfloor or in walls and ceilings or as second layer to increase sound reduction even more. The type with closed cell foam is far more effective than the other two types in reducing impact noise.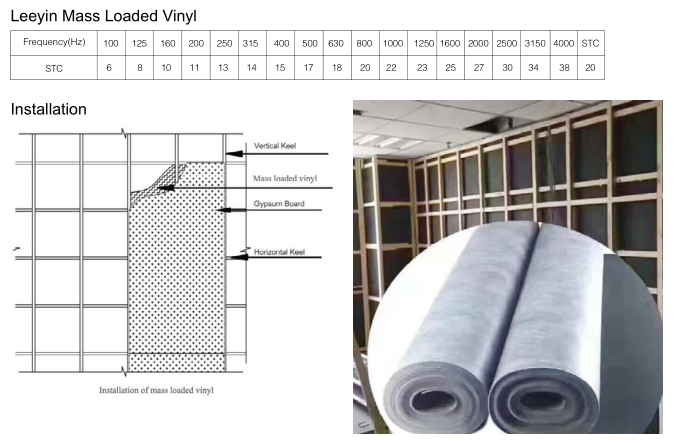 1.Used in composite lightweight gypsum board and wooden board wall, significantly enhance the sound insulation of the wall.
2. Used in composite ceiling, improve the floor sound insulation effects.

3. Used in floor layout, effectively increase the floor impact sound and air born double sound insulation effects.

4. Applied to pipe wrapping, improve the sound insulation and noise reduction of PVC pipe wall.
5. Used in soundproof door composite, change the vibration frequency of the door hinge itself, significantly enhance the door hinge sound insulation.
6. Acoustic cover, engineering machinery, car cab, shipyard, engine compartment, metal damping vibration, material sound insulation and so on.