Sound Absorbing Board Perforated Metal Acoustic Panels
Standard Thickness:12/15/18mm
Distance of two Holes:8/8,16/16,32/32mm,etc.
Diameter of Holes:1,2,3,4,5,6,8,10,12mm,etc.
Leeyin® Perforated Metal Acoustic Panels is a resonant sound absorbing material that is directly perforated on the density board. The hole wood sound absorbing panel has strong selectivity to the sound absorption spectrum and has good sound absorption performance for the middle and low frequency. For example, filling the cavity with a proper amount of sound absorbing cotton after the sound absorbing structure can improve the sound absorption effect of the middle and high frequency. The hole diameter and hole spacing of the hole wood sound absorbing panel can be adjusted according to customer requirements.
1.Product Name
Perforated Metal Acoustic Panels
2.Basic Material
E1 MDF,FR MDF ,MgO Combination Board etc.
3.Surface
Melamine ,Natural Wood Veneer,Paint,etc.
4.Back Finish
Black Acoustic Felt
5.Standard Size
L600xW600mm,L1200xW600mm(alternate lengths and widths are available)
6.Standard Thickness
12/15/18mm
7.Distances of two holes
8/8mm,16/16mm,32/32mm
8.Diameter of holes
1,2,3,4,5,6,8,10,12mm,etc
10.Fire rate
BS 476,Part 7,Class 1
11.Eco Emission
E1
12.Application
Auditorium,stadium,gymnsasium,Conference room

Features of LEEYIN perforated wooden acoustic panels: Perforated acoustic panels are made of high quality sheet, environmentally friendly, fireproof, waterproof, etc. The decorative color palette has a wide selection of materials, which can meet the diverse acoustic and decorative needs of customers. Compared with slot wood sound absorbing panels and perforated sound absorbing panels, it has relatively strong impact resistance. The highest fire performance A2 grade, the highest environmental performance E1 grade.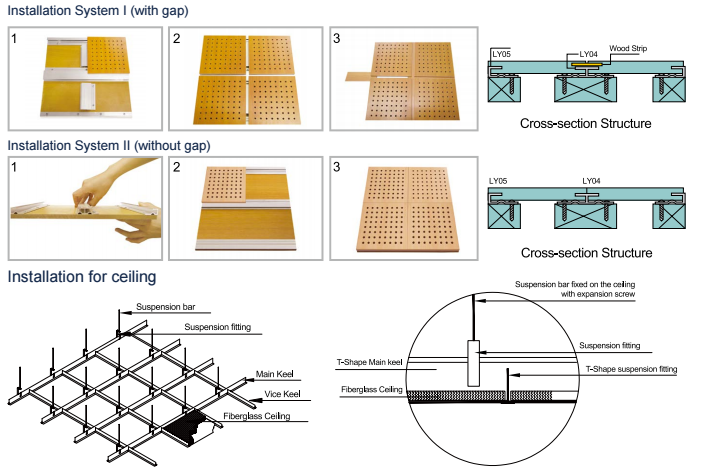 Leeyin wooden perforated acoustical panels can be applied to theater, studio, recording room, conference center, reception hall, office, hospital, restaurant, music rooms, auditoriums, recording studios, broadcasting studios and shopping center. Any space where good speech privacy or speech intelligibility is needed can be used.