6-2 Fireproof Grooved Acoustic Wall Panels
Leeyin® grooved wood acoustic panel has high acoustic absorption coefficient, the average NRC can reach 0.80. It's widely applied in many place such as auditorium, gymnasiums, hotels, schools and studios, etc.
Product parameters
Core Material:E2/E1/FR MDF, MGO, plywood, etc.
Front Finish:Melamine, Veneer, HPL, Painting
Back Finish:Sound absorption fleece
Standard Size:2440*197mm,2440*132mm or customized
Standard Thickness:12/15/18mm
Noise Reduction Coefficient:0.80
Perforated Rate:15.60%
Flame Retardant:BS476 Part 7 Class1,ASTM E84-18 Class A
Formaldehyde Emission:EN13986:2004 Class E1
Product Features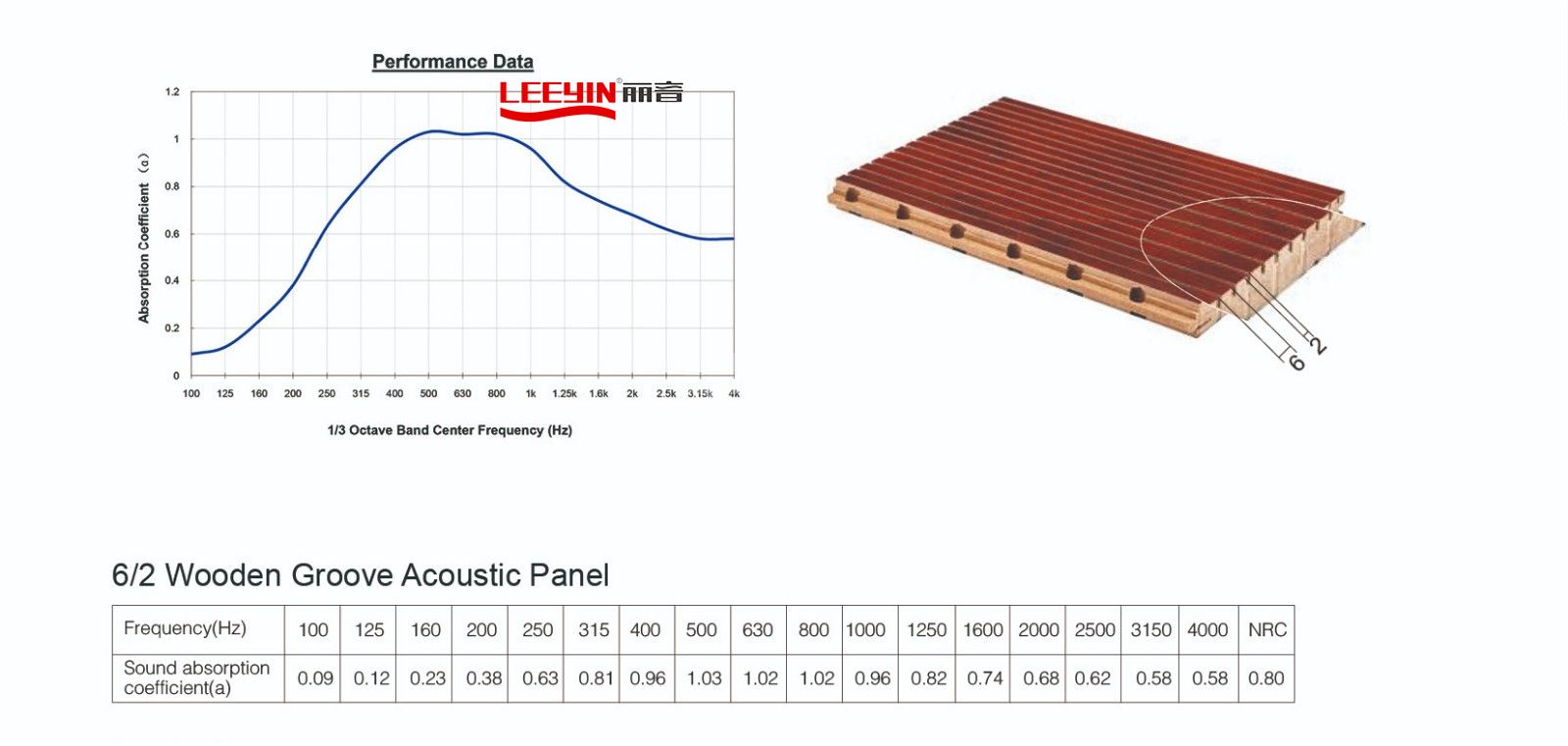 1.Scientific industry: Made according to acoustic theory, excellent at reducing noises, especially effective for absorbing high and middle frequency noises.
2.Artistic products: Natural wood, which may be carved according to your taste.
3.Environment-friendly: All the materials conform to the country's environmental protection standards, little wood alcohol is contained. Its natural wood is fragrant.
4.Fireproof: Fireproof degree B1- the highest for wood. It has already been tested by authoritative organization.
5.Moisture-proof and mildew-proof: It is made of high density moisture-proof and mildew-proof material.
6.Theory: Grooved on front and perforated on back of the panel with concealed system (for installation). It is usually used on the wall to absorb sound and reduce noise.
7.Easy to install: Dragon bone construction is applied.
8.Industrial production: No more an extensive production, automatically controlled by computers, standardized and large scale production, improved is production capability and ensured is products quality.
Scope of application
Leeyin wooden grooved acoustic panel is one of the most advanced and efficient absorption products available today for reducing reverberant sound levels in many places, such as gymnasiums, hotels, schools and studios. They are developed based on acoustical theories.