Automatic Multi-functional Acoustic System baffle movable sound diffuser
Model No.: LRT-600
Size: 600*1200mm, 600*1800mm
Application: Multi-purpose halls, Auditoriums, Audio-visual rooms,Recording studios
Leeyin is the leading provider of acoustical products used in architectural and industrial applications
throughout the world. And also offer Installation Services, Acoustical Engineering,Consulting Services.
With the development of the times, sound-absorbing and sound-proofing requires multiple uses in a limited space,
not only to meet the requirements of meetings and speeches, but also to meet the requirements of theatres and
concerts. Traditional single acoustic materials can not meet the modern diversification requirements, so Leeyin
introduced a variable reverberation adjustment system, which can realize the automatic conversion of large-area
acoustic materials through one-button switching, and adjust the reverberation time to achieve A variety of uses.
The maximum adjustable reverberation time range is up to 0.4 seconds, depending on the area of the different
variable reverberation modules. The reverberation control system can also integrate lighting and sound systems
to achieve intelligent and integrated control.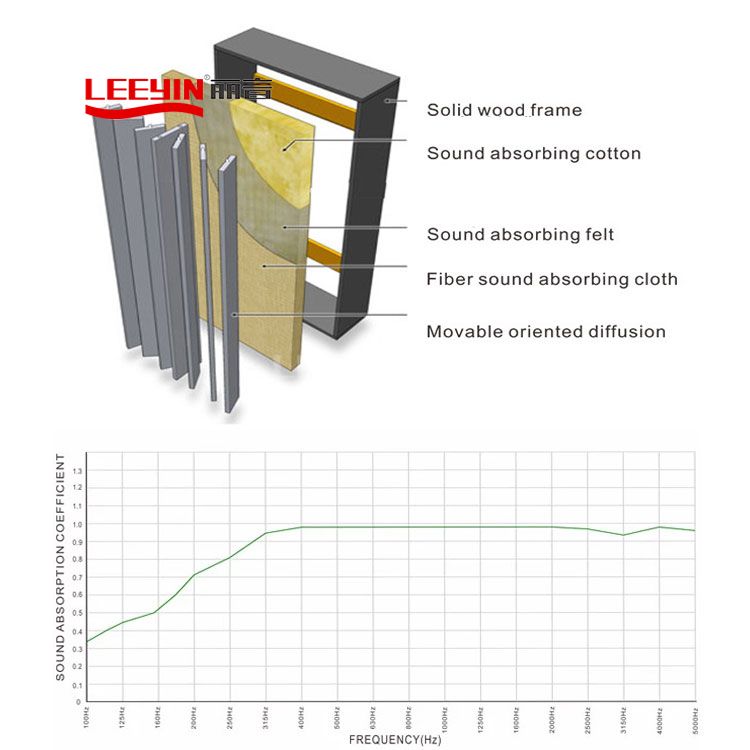 Features:
(1)Combination variable slat diffuser and absorber; (2)Eliminates flutter echo and standing waves;
(3)Allows you to adjust diffusion angles to suit; (4)Ideal for recording studios and home theatre.
Sound diffusers are often used in combination with other materials such as sound absorbers, bass traps,
ceiling clouds or other provisions to achieve the desired results for the application. The are often used in
music training rooms ,recording rooms, churches, multi- funcional rooms ,theatres, concert halls and so on.