Two Dimensional Flat Sound Absorber
Model: A50W/A100W/A150W
Finishes: Non-combustible glass fiber cloth+ Wind protection aluminum mesh
Model: A50W/A100W/A150W
Finishes: Non-combustible glass fiber cloth+ Wind protection aluminum mesh
Weight: approximately 6kg/㎡,12kg/㎡,14kg/㎡
Installation method: Horizontal hanging、vertical hanging
Environmental protection: Release of formaldehyde≤0.48mg/L, to meet the formaldehyde emission of interior decoration materials and wood-based panel products(GB18580)National E1 class requirements; Limited value≤1.5mL/g, glass fiber particles released in 24 hours≤2mg/m3, environmental protection belongs to the national E1 class standard requirements, limited value 0.15mg/m3 standard.
Conventional specifications: 600x1200mm, 600x2400mm, 1200x1200mm, 1200x2400mm
Fireproof performance: Class A
One piece aluminum alloy frame, filled with custom broadband sound-absorbing foam, foam surface is composited with environmental sound absorption felt, the surface wrapped in a fire-retardant non-combustible sound-absorbing cloth, the most surface is added with protection aluminum mesh.
Two dimensional plate sound absorber is a kind of sound absorption material with high performance absorption hanging in the ceiling, which is featured by less material, light weight, investment saving, high sound absorption efficiency, flexible layout and convenient construction. When the installation area reaches a certain percentage of the total area of the ceiling (generally more than 30%), it can effectively reduce the indoor reverberation time T60, improve language clarity D50 and music clarity C80, effectively improve the environment of the equivalent step-up level (Leq).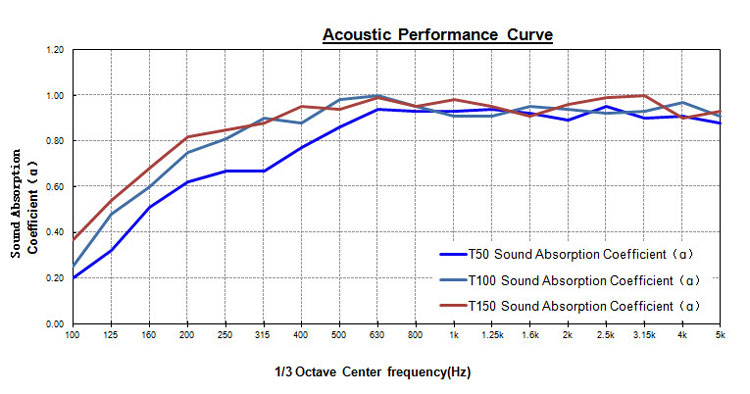 Gymnasium, ball hall, concert hall, and semi-outdoor space control of reverberation time.