32-32-8 Perforated MDF Acoustical Sound Board
Structure:Basic Material, Finish& Back Finish
Basic Material:E1 MDF,FR MDF,MGO Combination Board etc.
Front Finish:Melamine,Natural Wood Veneer,Paint,etc.
Leeyin® perforated wood acoustic panel is an ideal material for sound absorption and decoration. It can help to improve acoustic quality in all types of interior spaces.
Back Finish:Black Fleece
Diameter of Holes:1,2,3,4,5,6,8,10,12mm,etc.
Standard Pattern:8/8/1,16/16/3,16/16/6,32/32/6,32/32/8.etc.
Installation:1.Lightweight steel keel system; 2.Wooden steel keel systerm
Flame Retardant:BS476 Part 7 Class1,ASTM E84-18 Class A
Formaldehyde Emission:EN13986:2004 Class E1
Noise Reduction Coefficient:0.30
Perforation Rate:5%
Perforated wood sound absorption board classification:
1.Big and small perforation:Mainly to meet the low-frequency sound-absorbing requirements, for low frequency sound absorption is based on the combination of small holes on the visible side and the big holes on the back side. Small perforated surface makes the decorative effect of the wall more beautiful.
2.Straight perforation:Mainly meet the sound absorption requirements for medium and high frequency. Sound absorption is mainly determined by the perforation rate, it is also affected by the size of the cavity between the acoustic material and the wall or ceiling.
3.Reflective surface:This structure can also be used as a reflector, its characteristic is that the back is not perforated. The acoustic function is equivalent to a standard reflector.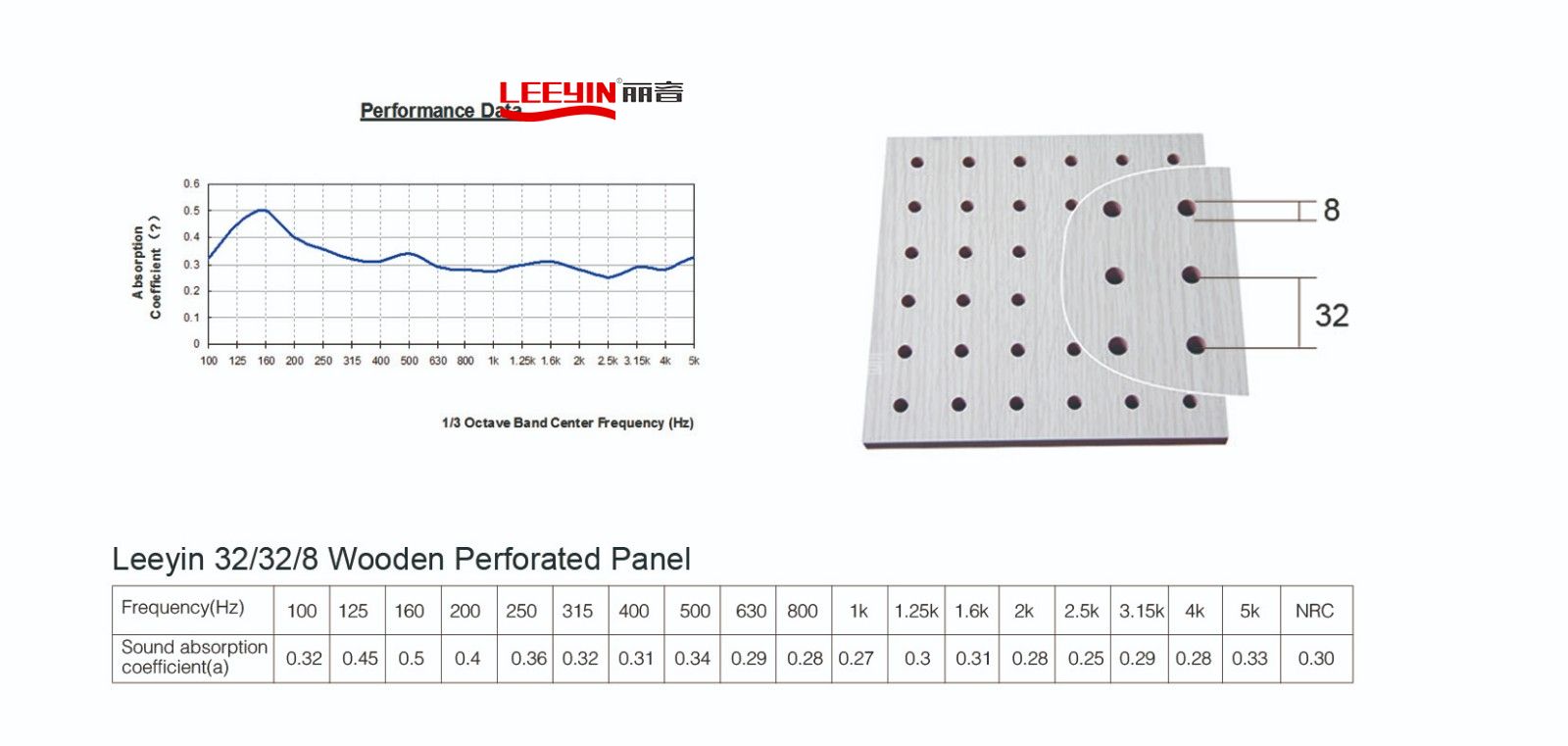 Multi function hall, meeting room, cinema, auditorium, hotel and other places.