What is sound absorbing panel?

In fact, acoustic panel is made of veneer, core material and sound-absorbing felt, and then processed according to acoustic principles. At present, there are wooden sound absorbing panels, fabric sound absorbing panels, polyester fiber sound absorbing panels, mineral wool sound absorbing panels and metal sound absorbing panels, etc. Because there are many tiny holes in its surface, when the sound enters the small hole, it will be reflected in its inner wall until most of the sound energy is consumed. Therefore, it also achieves sound insulation, it has a very significant effect especially for sound waves with frequencies higher than 600hz. However, wood acoustic panels are the most popular.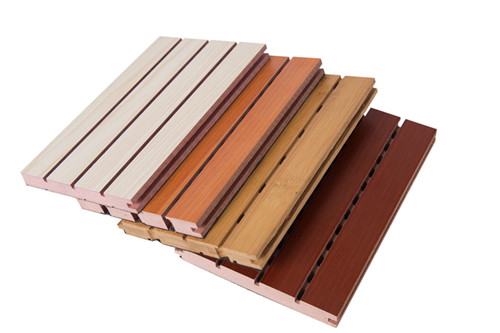 Characteristics of Wooden sound absorbing panels
1.Not only light texture, not easy to deform, but also high strength, good decorative effect, and have a good three-dimensional sense.
2.Made according to the principle of acoustics, and there are many gaps, so it has excellent noise reduction and sound absorption performance, and it is especially good for medium and high frequency sound absorption.
3.The sound absorbing panel is beautiful in appearance, has a natural wood texture, excellent decorative effect, can be decorated as needed to provide good visual enjoyment.
4.All materials comply with national environmental standards, low formaldehyde, also has a natural woody aroma.
5.Because it uses the slot and keel structure standardization module design, making installation very easy.
How much is the sound absorption board?
As mentioned earlier, there are many kinds of sound absorbing panels. But different types of sound absorbing panels are not the same price, which valued from a few dollars to a few hundred dollars. What's more, there are many sound-absorbing panels in the market with the progress of society. The price of acoustic panels of different brands is also different. In addition, the price of the sound absorbing panel will also be affected by the substrate, thickness, finish treatment and other factors. So, the actual sound-absorbing panel price is subject to change.