Acoustic Sliding Folding Partition Door
Finish:Melamine, Veneer, Fabric, Painting, etc

Thickness:65/80/100m
Width:750-1200mm
Each panel load-bearing weight:225kgs/450kgs/675kgs
Core Material:MDF+Sound Absorption Wool
Suitabble height space:From 2m-17m
Junction:"T"junction, "L" juntion, cross/ "X" juntion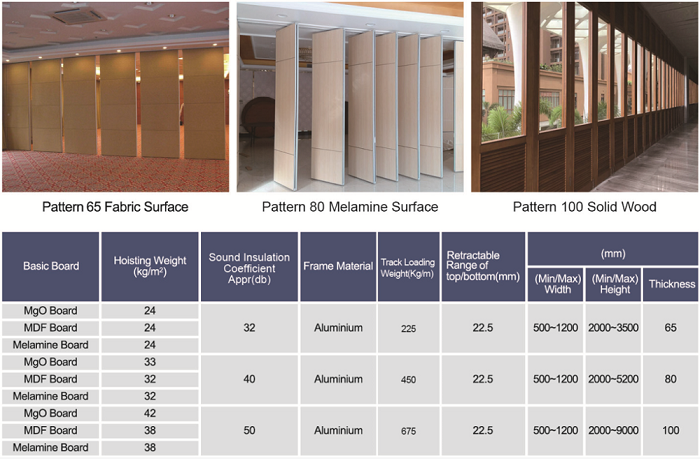 Movable partitions are a series of individually operated panels along a track system designed for maximum space planning flexibility. They can be arranged quickly, easily and efficiently. The movable wall system is tongue-and-groove unitized panel system. Panels are precision laminated, pre-finished with vinyl, fabric or other specified finish. All vertical and horizontal structural members consist of extruded aluminum components, with a snap-on base made of extruded vinyl. Panels lift into floor and ceiling tracks to form a rigid, uniform wall system that provides excellent sound transmission resistance with a STC rating of 35 to 58dB.
1.Characters and functions:

(1) hang track on the ceiling, not the floor;
(2) heat insulation and fireproof
(3) stable and safe
(4) energy-efficiency
(5) elegant appearance
(6) collection convenient
(7) widely used in different place
Widely used in hotels, restaurants, private rooms, training rooms, teaching rooms, conference rooms, office buildings and other places.