14-2mm Sound Absorption Grooved Wooden Acoustic Panel
Standard Size:2440*197mm,2440*132mm or customized
Standard Thickness:12/15/18mm
Noise Reduction Coefficient:0.90
Perforated Rate:7.80%
Product parameters
Construction of Groove wooden acoustic panel:

1.Basic material: it is made of high density moisture-proof and mildew-proof board (MDF board), the thickness is12mm, 15mm or 18mm. It is also acceptable to use the other board according to the customers' requirement.
2.Facing: Melamine, Wooden veneer, Fire-proof surface, Painting or Carving, color chosen according to the company's color board.
3.Sound absorption thin felt: It is black, affixed to the back of the sound absorption board, nonflammable, sound absorption and dust preventing.
4.Thickness: 12/15/18mm, or made on your kindly request.
5.Type: 13/3, 14/2, 28/4, 59/5 or made on your kindly request.
Product Features
Leeyin® grooved wood acoustic panel is an ideal material for sound absorption and decoration. It can help to improve acoustic quality in all types of interior spaces.
Core Material:E2/E1/FR MDF,MGO, plywood, etc.
Front Finish:Melamine, Veneer, HPL, Painting
Back Finish:Sound absorption fleece
Flame Retardant:BS476 Part 7 Class1,ASTM E84-18 Class A
Formaldehyde Emission:EN13986:2004 Class E1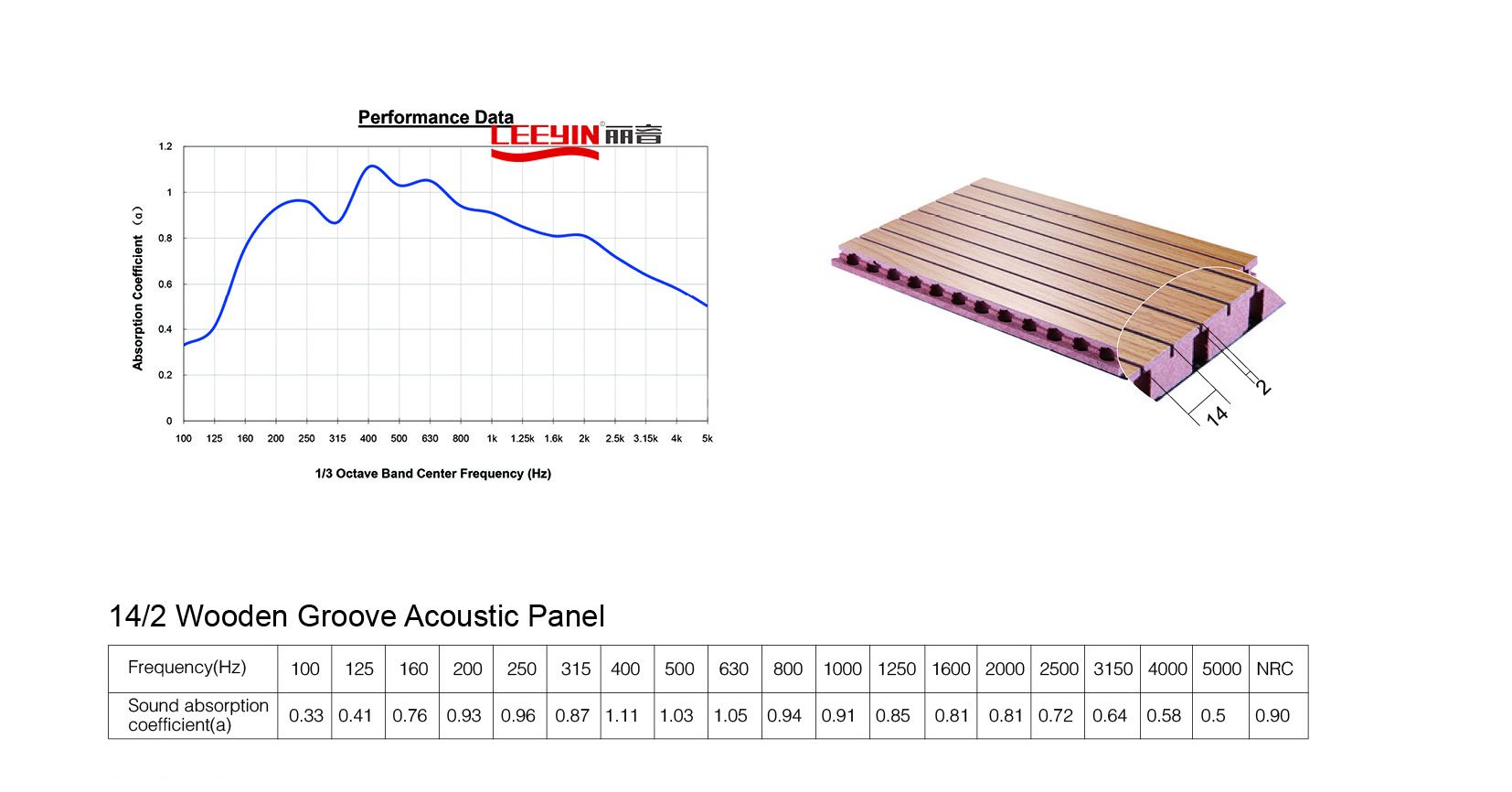 Scope of application
Leeyin wooden groove acoustical panels can be applied to theater, studio, recording room, conference center, reception hall, office, hospital, restaurant, music rooms, auditoriums, recording studios, broadcasting studios and shopping center. Any space where good speech privacy or speech intelligibility is needed can be used.