Soundproof Movable Partition Wall for Restaurant, Banquet Hall, Office
Surface veneer: MDF panel, fabric panel, acoustic panel, etc.

Height:3m-7.5m
Thickness: 65mm/80mm/100mm
Sound insulation coefficiency: 30-55dB.

1.Base Material: sound absorbent cotton, sound insulation cotton, sound insulation rubber, etc.
2.Frame: It's frame is made of strong and light weight aluminum.
3.Surface veneer: MDF panel, fabric panel, acoustic panel, etc.
4.Height:3m-7.5m
5.Thickness: 65mm/80mm/100mm
6.Sound insulation coefficiency: 30-55dB.
The movable wall system is tongue-and-groove unitized panel system. Panels are precision laminated, pre-finished with vinyl, fabric or other specified finish. All vertical and horizontal structural members consist of extruded aluminum components, with a snap-on base made of extruded vinyl. Panels lift into floor and ceiling tracks to form a rigid, uniform wall system that provides excellent sound transmission resistance with a STC rating of 35 to 58dB.
Features:
1.Investment saving:Movable, long life, can be used immediately after installation.
2.Convenient construction:Easy for cable laying,quick installation,small construction noise.
3.Many varieties:Material, finishes and colors are available for a variety of options.
4.Good fire resistance: green building materials, high fire resistance
5.Strong sound insulation:Sound insulation and good sealing
6.Maintenance-free:Moisture proof, no cracking, no deformation,not rust or not oxidized under normal temperature and pressure; Venetian blinds installed inside,no need for cleaning.
7.Insulation and energy-saving: Excellent thermal insulation,divide large space into small spaces according to different occupancy rates,to reduce air conditioning power consumption.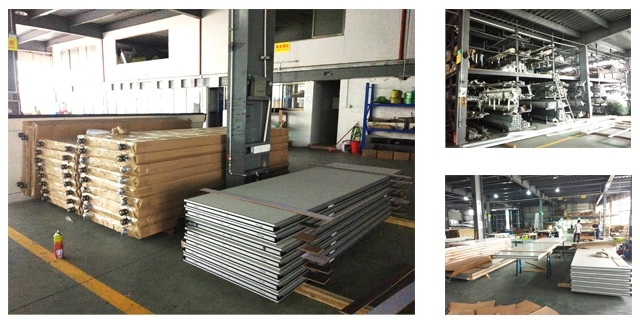 Widely used in expo venues, exhibition venues, large and medium-sized conference rooms, multi-purpose halls, star-rated hotels, office buildings, commercial office buildings, colleges and universities, banks, hospitals and offices, large enterprise unit control rooms, centralized control rooms,fine processing workshops and other places.